Welcome to My BlOoDy VaLeNtInE, the BEST shrine to VINCENT on the WHOLE INTERNET!!

NOTE THAT THIS PAGE WAS THE FIRST VINCENT SHRINE NAMED MY BLOODY VALENTINE! THAT STUPID GIRL FUUJIN RIPPED ME OFF BUT SHE TOOK HER PAGE DOWN HE HE HE I WIN!!!! SHE IS A SKANK! SKANK!!
VINCENT, BEHIND THE MUSIC
Vincent is a character in the game by square calld FFV11. His last name is Valentine and he fights with guns, plus he turns into monsters sometimes but then hes ugly so we dont like when he does that. Vincent is really Tifa, who likes to cross dress and Cloud is actually Squall. They are in luv and they are destined NOT Aeris and Cloud! Aeris is stupid and wears pink and red which never go together well!
Vincent was also in the fighting game "Street Fighter FF Edition" and "Britney Spears DAnce Moves", where you have to beat Oops I did it again on ultra uber hard to get him. Before FF he was a porn star, but now he just has lots of hookers coming out the ying yang! Since hes really old that means he is a DIRTY OLD MAN! But he is sexy so I dont mind. Oh ho ho! Vincent also wrote the song "baby got back" and frequently works with Snoop Dog and Dr. Dre.
VINCENT IMAGES:
Vincent was tired of shooting Malboros up.. and well.. he decided to buy some crack off Sephiroth.
THIS PICTURE IS ALL THE PROOF YOU NEED!!!
A lovely Cg of the previous piccie
A Super close up of his sexy eye!
A kewlies doujinshi pic of Vincifa. MORE PROOF!
LOOK ALIKES:


I saw the Cowboy Bebops movie at a con I went to (my frendz and i were cosplaying and I wuz Rinoa!!1~) and I saw VIncent and I thoght "OHMYGOD! HES NAMED VINCENT 2! HES JUST LIEK VINCENT!! KEWLIES!!" Cuz he has a gun + black hair but I didnt like when he tried to rape Faye cuz she belongs with Spike! SPIKE AND FAYE 4EVER!!!


I think Vinnie is alot like Christina Aguilera, cuz there both so inspirational and they both r0xx0rs! And I have all of her cds and Im listening to them right now and I bet if Vincent were real he'd listen with me because hed be my hubby and wed go out and party with Christina on weekends and go to movie premiers with J-Lo and stuff like taht. W00T! And shed be all "Vinnie i <3 yuo" and hed be all "no I <3 my wife and will never leave her fuck off J-lo!"
FLAMES FROM STUPID PEOPLE WHO ARE STUPID:
You suck! holla back!
He he he no u suck! :P
you daft bitch! i will kick your ass! i am not a skank! noijhofiwhaoibfoi fhwioah fiobo fiowhafoiha oifhaoih foisahfio a~! dibby dibby! HOCK LOOGIES!
FUUJIN YOU ARE A SKANK I KNOW IT IS YOU AND YOU ARE STUPID DONT RIP OFF MY PAGE IT WAS BETTER THAN YOUR CRAPPY ONE EVER WAS YOU SUCKSUCKSUCK! YOU ARE JEALOUS BECAUSE I AM L33T AND YOU ARE STUPID!!
GO BLOW A GOAT!! A REALLY BIG ONE!!!
honestly! UR SO IMMATURE!!! GROW UP!!
fuck the weeds! YOU KNOW WHAT! YOU FUCK ASS! NOT SUCK ASS BECAUSE THAT IS JUST WRONG BUT YOU ACTUALLY FUCK ASS
WHY DO YOU KEEP FLAMING ME!? YOU ARE ALL JEALOUS!! JEALOUS LIKE STUPID JEALOUS PEOPLE! I'M NOT TAKING MY SITE DOWN BECAUSE IT IS THE BEST DAMN VINCENT PAGE EVER SO YOU'D BETTER SHUT UP ALL OF YOU!
LINK TO MY PAGE PLZ!




someone said I stole these buttons from Fuu but she stole them from me! She is the thief! She cant make kewl buttons like me!!!1
MY AFFILIATES!1

Justine R0xx0r5!!1` And Cloud is hot but not as sexxy as my Vinniepoo!!!11~~`

FFX2 isnt as kewl as FFV11 but Horatio still r0xx0rs!!!1

- Renos a sexay b*tch!!1 Just liek Leigh OMG LOLZ!!11
LINKS TO OTHER PAGES THAT ARE GREAT!
tree humpers INC - Vincent loves this page!!!
Gunslinger - Irvine isnt as hot as VIncent but he is still great!!1
Booyaka! - I like this Selphie shrine!1!!
Trigger Happy - Rufus is hot Id do him if he were real oh ho ho ho!`~
FFVIII Marriage Prospects - I wanna marry Squall!!1
Gallant - Laguna is my dream man. Get it? Dream man! He he he!!
Fragments of Memories - a kewl page about Tifa, Cloud and Sephiroth!
Omnislash - CLoud is the kewllies!1 w00t!!11~`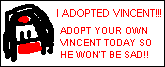 ~*~ >> I support Cloud(Squall)xVincent(Tifa)!!! << ~*~
Porn Star * Vincent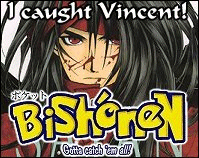 SIGN MY GUESTBOOK!!!!
Read my Dreambook guestbook!
Sign my Dreambook!
this site has had
12
hits!!! Yay!!